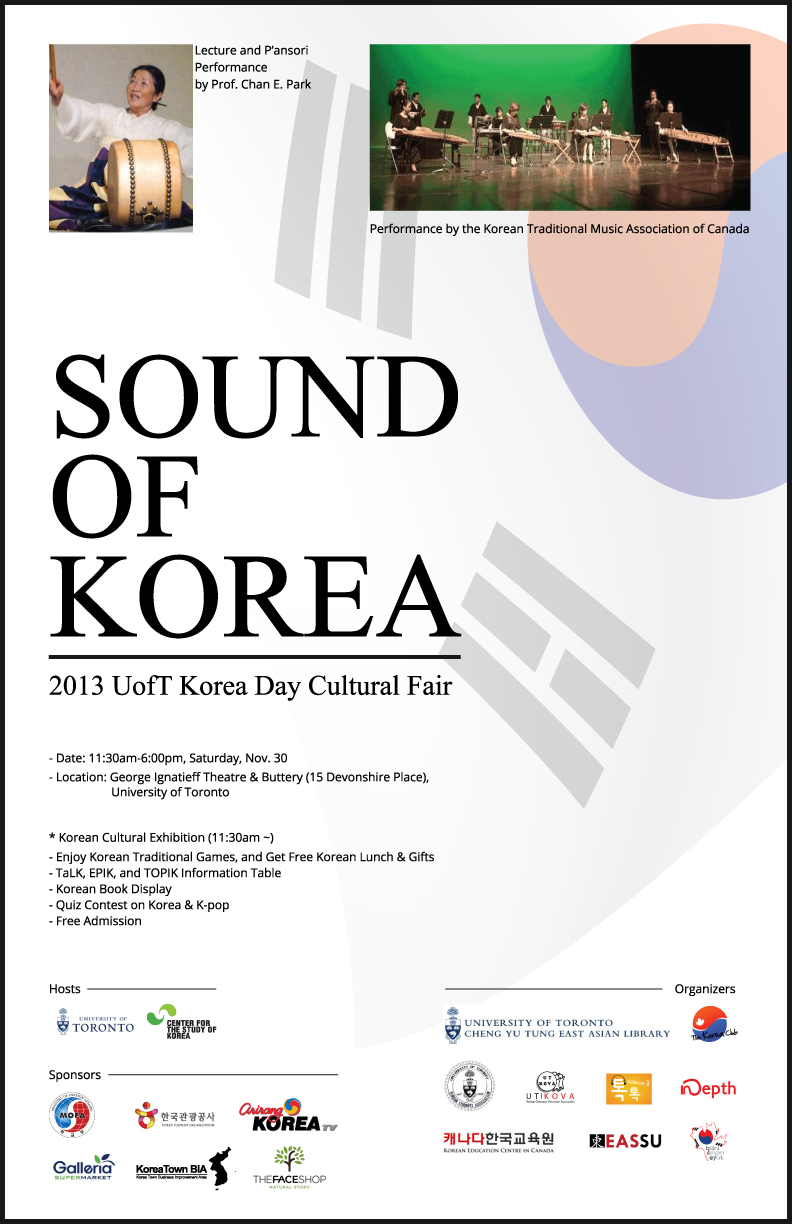 The Korea Club is proud to be one of the organizers of Sound of Korea, a huge Korean cultural exhibition held on U of T's St. George campus!  This free event is a great chance to learn about Korean culture through traditional games and activities, food, K-Pop performances and more.  The Korea Club will also have our own booth with fun activities, so please stop by!
The Annual Quiz on Korea Contest will also be held at Sound of Korea, and welcomes all those who wish to test their Korean cultural knowledge.  You will also be able to win great prizes including electronics, and goods from our sponsors such as The Face Shop!
You can RSVP to our facebook event, as well as like Sound of Korea's facebook page for updates!
Event Schedule
Saturday November 30th, 2013
George Ignatieff Theatre & The Buttery
15 Devonshire Place
The Buttery
Time: 11:30AM – 2:30PM
Program: Culture Fair Booths & Activities
George Ignatieff Theatre
Time: 2:00PM – 6:00PM
Program: Opening Ceremony
Lecture and Performances
Quiz on Korea Contest
(Note: More information on the full schedule to come.)
Brought to you by:
Hosts
Centre for the Study of Korea
University of Toronto
Sponsors
Consulate General of the Republic of Korea
Korean National Tourism Organization (KTO)
Arirang TV
Korean Town BIA
The Face Shop
Galleria Supermarket
Organizers
University of Toronto's CHeng Yu Tung East Asian Library
The Korea Club
UTKSA
EASSU
UTKOVA
Talk Talk
InDepth
York University's Hallyu Dongari