Tteokbokki Cooking Event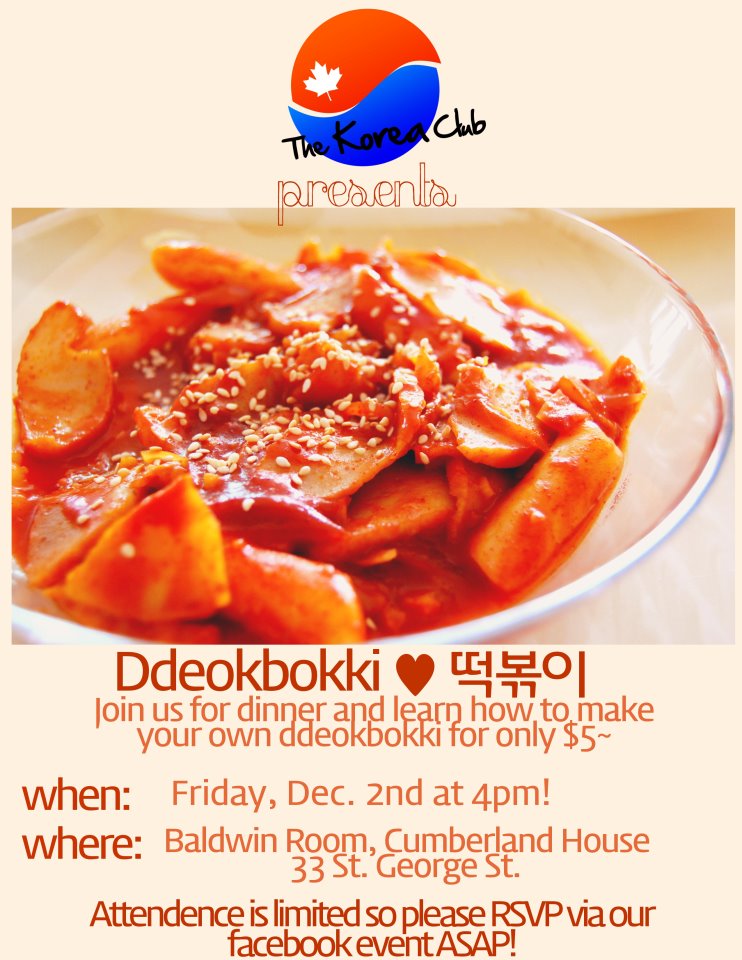 Lunar New Year Cooking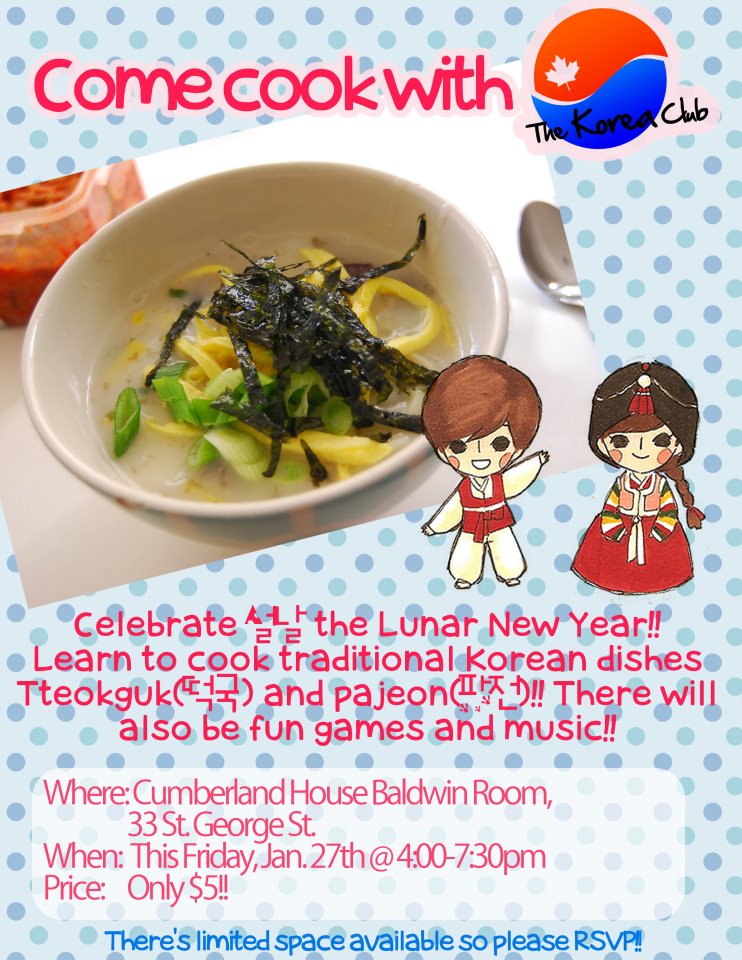 Super Wave Korea 2012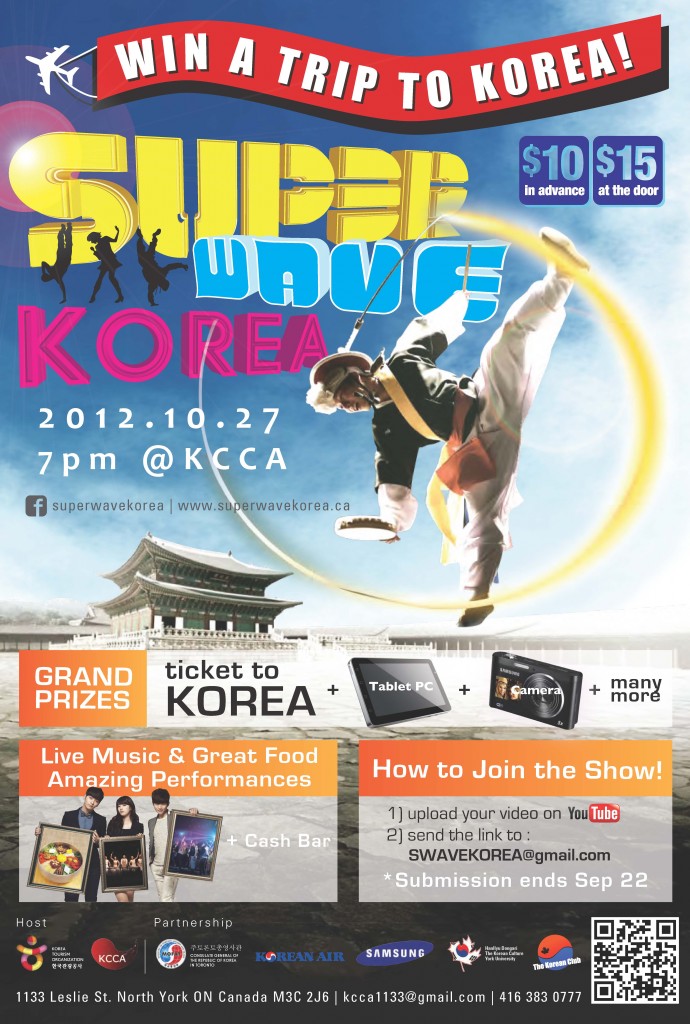 Super Wave Korea is an event that showcases our passion for Hallyu, the new sensation of Korean culture!  Usually held in October, the event offers a night of music, through both talent competitions and the contributions of our wonderful guests!  People of all backgrounds are invited to show off their love for Korean culture through musical and choreographed performances.  It's also a chance to eat some delicious Korean cuisine, and win prizes from our sponsors!
Super Wave Korea is an event put on by various members of the Korean community in Toronto, such as KTO (Korean Tourism Organization) and KCCA (Korean Canadian Cultural Association), as well as help from student groups such as York's Hallyu Dongari, and your very own Korea Club!  The event is held in order to showcase Korean culture as a very important part of Canada's multicultural heritage.
Website: http://www.superwavekorea.ca
Twitter: http://twitter.com/SuperWaveKorea 
TaLK Info Session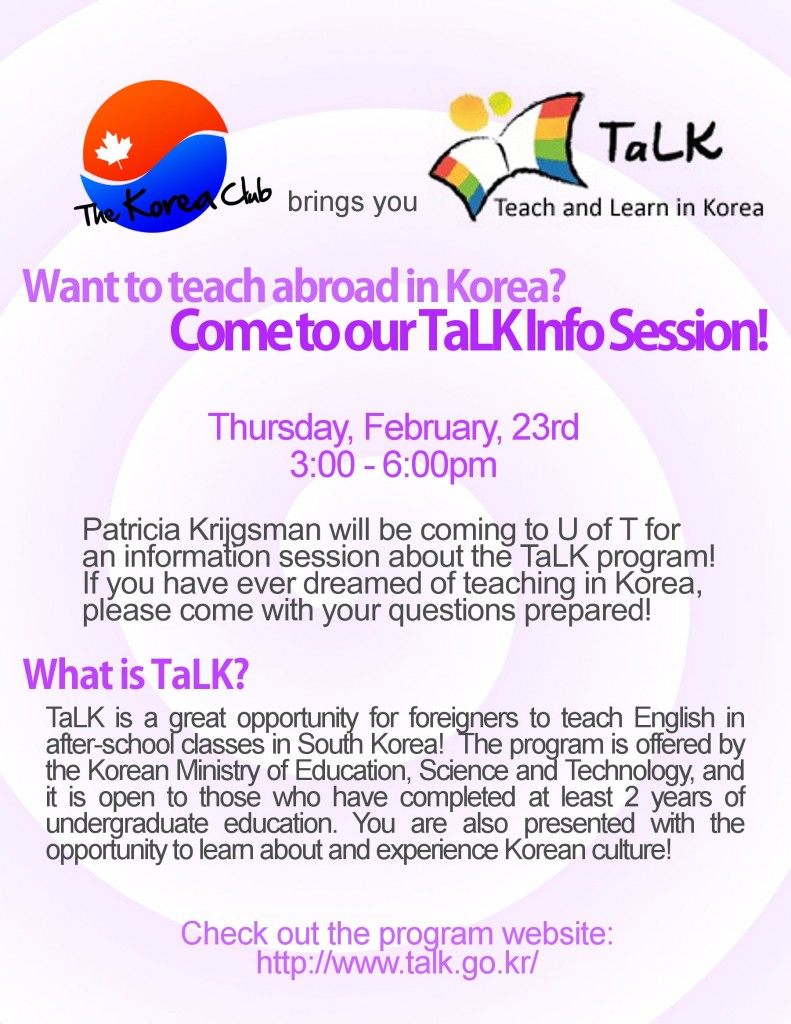 Eat Your Kimchi Fanmeet 2011
We held this event in partnership with East Asian Studies Student Union (EASSU). It was a HUGE success, with around 350 students attending to learn more about living and working in Korea straight from Simon and Martina, former UofT grads!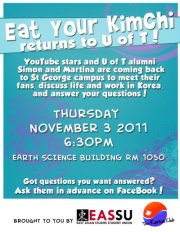 Eat Your Kimchi Toronto Fanmeet 2011

You can also check out Simon and Martina's post about the event on their official website!
Korea Week
In 2011-2012 we held a week-long series of events celebrating Korean culture known as Korea Week! It was kicked off with a Monday Movie Night, where we watched Twilight Gangsters. Tuesday we held a meeting where we taught students how to write in Korean. For White Day Wednesday, we held a Kimbap making class. Time to Play Thursday rolled around and we had a fun Karaoke outing! The week ended on a high note with our Fun Times Friday, which marked our year end social.